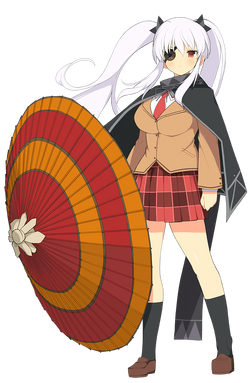 Yagyū (柳生) is a playable character from the Senran Kagura video game series. She makes her debut in Senran Kagura: Portrait of Girls.
Background
Yagyū came from an average shinobi family and had a strong relationship with her younger sister Nozomi. The two were inseparable, with Nozomi admiring Yagyū's devotion to becoming a shinobi. Unfortunately, Nozomi was involved in a sudden car accident and was taken to the hospital. Although despite the doctors' efforts, her injuries were too severe and she died. Yagyū was deeply hurt by this ordeal, and the solitude that came with it. However, she both knew and feared that the loss of her sister would eventually fade from her memory as time went on.
As a means of her never forgetting her younger sister, Yagyū dons an eyepatch crafted from her ribbon, cutting her vision and acting as a permanent reminder of her.
Upon her arrival at Hanzō Academy, she came across Hibari, who had such a striking resemblance to Nozomi that she had almost believed she had come back to her. Hibari's cheerful nature quickly overpowered Yagyū and the two quickly became friends. With Yagyū adopting an older sister role with her and seeing Hibari as her best friend that helped her get out of her solitude a little, she's always showing concern for her and being protective of her while also showing that she can't live without her, developing a "sister complex".
Although she will not admit it, Yagyū could never live in true solitude, and Hibari would soon become the primary reason she opens herself up to others, namely the rest of her class.
Other Appearances
Games
Prologue
Yagyū was in the ninja room with Hibari who was showing her a flyer for Super Dish Gourmet Cook-Off. "Let's enter this together, Yagyū!" Hibari says as she showed her friend the flyer. While Yagyū did enjoy a good meal, she hasn't cooked much. She tells her that was the reason for her lack of motivation to enter. Hibari was saddened by this because she didn't know if she was good enough to enter on her own. Seeing the pouty look on Hibari's face again, Yagyū's motivation shot up like a rocket. She tells her she was good enough and they'd do it together. Hibari happily jumped up. She then informs Yagyū that the winner would receive a Secret Ninja Art Scroll that would grant any wish. Hearing this Yagyū looks at the flyer to confirm and indeed the grand prize was a scroll that would grant any wish. Yagyū vowed to win, she will commit the whole of her being to this victory. She had all the drive she needed to accomplish this mission. Her wish was to be friendly with Hibari. She'll do anything to win. She would even sell her soul away. Suddenly she came to the realization, if they both participate there is a chance, they would go up against each other. She begins to worry about beating her, until she realized that the scroll will make them closer, upsetting Hibari would only be a temporary setback. She always thought faster when Hibari was involved. She declared to Hibari she would not hold back. Yagyū knew she would break her heart temporarily, but everything will work out in the end. Everything would be perfect. That scroll was going to be hers.

Round 1 Her first opponent was her leader, Asuka who Yagyū takes note of. Upon seeing her Asuka asks if Hibari had also entered the tournament. Yagyū confirms and says she couldn't let Hibari go alone. Asuka points out that the two of them get along really well and admits she was jealous and says how that makes her wish she had an older sister. "...Then consider me your elder sister" Yagyū says. Asuka was shocked at the words "elder sister" and ask about not being the younger sister. Yagyū tells her not to be afraid and she had to be the older one. She continues on with how she was her older sister and to not hold back she could depend on her. Asuka was flustered by this. Yagyū then tells her she was so adorable. Asuka comments on how good she was at being an older sister. Yagyū informs her it was because of all the time she spent with Hibari, she had evolved into the ultimate sister. Asuka tells her "Sister" that a battle was a battle and she won't hold back. Yagyū tells her to come to her and she'll be gentle. And the first round of the cook-off began with Yagyū winning. Asuka was saddened at the loss against her "Sister" Yagyū commends Asuka on how she'd proven her strength. She was very pleased with how far she came; she'd grown so much and she made her proud. Asuka was happy at her words once again. Yagyū comments on how she was better at cooking than she originally thought and she could get used to this.

Round 4 She was then greeted by Daidōji who addresses her as "Sis". Yagyū was shocked at her behavior and asks if she was listening to her and Asuka. Daidōji requests to speak her mind and talks about how she always desired an older sister and she wouldn't turn down an offer. Yagyū admits she didn't mind but. Daidōji interrupts her by saying she wanted to play. Yagyū agrees and asks what she wanted to play. Daidōji wanted to play kick the can with one already prepared for the game. Yagyū points out it was a drum barrel. Daidōji tells Yagyū she'd be it first and how Daidōji would be the one kicking. Yagyū tries to tell her it wasn't a can, but Daidōji doesn't listen she lets out a hearty roar and kicks it hard enough to send it out of sight. Yagyū asks how far she kicked it. Daidōji didn't answer and cursed herself for using too much energy on a children's game so they couldn't continue. Yagyū tells her it was alright and everybody makes mistakes. Daidōji says to her she was truly kind. Yagyū asks Daidōji about their battle. Daidōji says to her "Of course. A battle to the death it is. Prepare yourself, Sis!" Yagyū goes on to win the next round of the competition. Yagyū comments on how she somehow won the match. Daidōji takes the loss of the battle and says the word "impressive" to Yagyū. Who tells her she was the one impressed her and she taught her much today. Daidōji asks Yagyū if she'd be okay if she leaned on her from time to time. Yagyū says she didn't mind. Daidōji goes on about having an elder sister was a blessing. She had given her a gift she would treasure for all her coming days. "Until we next meet...Sis" Daidōji says to her before departing. Yagyū wasn't sure if she should keep up what she was doing any longer.

Round 5 Unfortunately for Yagyū her last opponent was Hibari. She then comments on how the time has finally come. Hibari asks her for a fair fight. Yagyū agreed but Hibari took notice of her friend looking down. She asks about it and if she wasn't a good enough opponent. Yagyū says it wasn't that, it was because she didn't want to see her heart broken. Hibari was angered and asks if she was treating her like a kid again. Yagyū tries to tell her, she wasn't and it was a misunderstanding. Hibari informs her, she had grown up just fine, so she can't go easy on her. Yagyū goes through with Hibari's request for a fair fight and tells her she would fight give this battle everything she had. Hibari was pleased as that's how she wanted it. Yagyū tells her this time she would face her dear elder sister. Hibari then says "S-sister?" Yagyū immediately tells her it was nothing and to forget about it. And so, the final round of the cook-off begun with Yagyū winning.

Epilogue After losing to Yagyū, Hibari began to cry. Yagyū apologizes to her. Hibari points out she fought with everything she had, she knew she did so she was satisfied, she then thanks Yagyū. Yagyū was taken aback. Hibari asks her if she could go with her to celebrate Yagyū's victory just the two of them. Yagyū readily agreed with her and they set out. That night the two of them had a toast with juice. Yagyū thought to herself about how lucky she was regarding their celebration. Hibari unexpectedly asks her if she was Asuka and Daidōji's older sister. Yagyū blurted it out that they were jealous of the bond they shared. Hibari admits she was teeny bit jealous, she felt that she was supposed to be hers. Hibari's words shocked Yagyū who began to feel faint. Hibari talks about how the big sister version of Yagyū didn't belong to anyone and not to worry just because she liked her didn't mean she owned her. Yagyū didn't know how to answer and instead gulp down the juice. Hibari then asks about her wish with the scroll. Yagyū's wish was to be closer to Hibari but that had already been granted by the competition itself, she proceeds to tear the scroll up. She tells Hibari, her wish was already granted and thus the scroll wasn't necessary anymore. The bond the two shared was born from their hearts, not conjured up by magic tricks. What was between them was something special. And it was theirs, nothing was going to change. "Hibari, I'm glad we have another year together" Yagyū says to her.
Anime
Related Article: Yagyū/Anime
Trivia
In the Senran Kagura anime drama CD, it appears Yagyū has a fear (or perhaps a phobia even) of theme park rides, in particular the Roller Coaster. This also is one of the times when her composure breaks.
Yagyū's name means "Willow Birth".
Yagyū's name and appearance are likely a reference to Yagyū Jūbei Mitsuyoshi, who is often depicted in popular culture as wearing an eyepatch made from the guard of a sword.
In Dead Or Alive 5 Last Round, Ayane dresses up like Yagyū as a DLC costume.
External Links
Yagyū on the Heroes wiki.