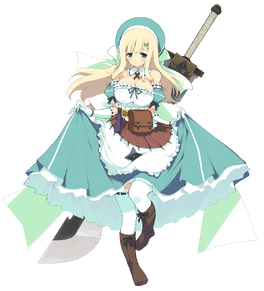 About Me
I have been aware of the series since it first began by watching a Youtuber stream it on a occasion. However, I went full deep on the series with the announcement of Yumi joining Blazblue Cross Tag Battle. As a huge anime fighting game fan, I try to make sure that information is to the best available quality. After seeing that some of the pages were blank on the wiki, I decided to join the cause.
I've only played Estival Versus but have watched the whole mainline series. Everyone is so unique that I felt the need to complete their gameplay pages.
My favorite character happens to be Yomi, the Beat Sprout Queen. It seems to be a common theme that I enjoy huge swords. She's very sweet too!
I'd also like to thank editor Purple Heart for the template on this profile page. If you happen to be reading this, thank you for the neatness and hard work!
Reminders & Notes
My timezone is EST (UTC -5)
I'm always free to help out if needed
I'm always watching...
Projects
My current goal is to get all of the Estival Versus pages up to the standard that the Yumi page is (as of 2/28/2020). I'll also try to help out in any other areas if I see the need.
Character Pages
Yomi
Everyone else in Estival Versus
Game Content
Misc.
Senran Kagura Products
Games
While I do have a 3DS, it is mostly broken. I am trying to emulate the games on there though as to see if I can help out with the Burst and Deep Crimson pages. Besides that, I also don't own a Playstation, but I do have a PC. So I'll be helping out with that.
Community content is available under
CC-BY-SA
unless otherwise noted.