"鎮魂の夢に沈みましょう。"
—死塾月閃女学館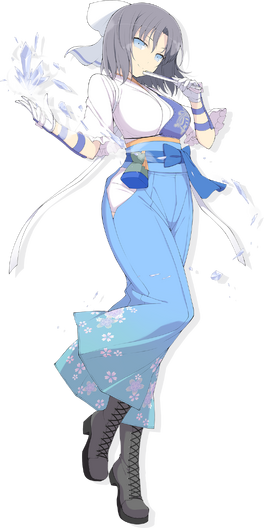 About Me
The Senran Kagura series was introduced to me by a dear friend who had been a fan since the 3DS games. Though I was never particularly interested in the series, said friend introduced me to Yumi around the time of the release of Shinovi Versus in Japan.
They were certain I would like her due to a variety of reasons, and... they were right. That's when I decided to look into the character and the series as a whole, and ultimately became more immersed in it than I had originally thought I ever would.
With the eventual release of Shinovi Versus in the West came me making my way here to this website for the sake of my hobby -- working on wikis for things I love.
Reminders & Notes
My timezone is EST (UTC -5)
If you need help or have any questions, please feel free to leave me a message and I'll get back to you when I can.
Even when I'm not visibly active, I'm almost always lurking.
Projects
While I tend to do a bit of everything, here is what I'll be focusing on primarily. This listing is subject to change at any time.
Character Pages
Mostly Yumi but also Gessen as a whole to a lesser extent.
Kafuru
Game Content
Shinovi Versus
Estival Versus
Peach Beach Splash
Misc.
Senran Kagura Products
Games
I never intend to own any of the Nintendo titles because I never intend to own any Nintendo consoles or handhelds. But I will at the very least watch playthroughs of all of them so I can be acquainted with the story. So the following will be PlayStation and mobile only.
Books
Senran Kagura: Skirting Shadows Vol. 1-3
Senran Kagura: Peach Beach Splash Art Book 2017 (Hibarock Party)
CDs
Senran Kagura: Shinovi Versus OST
Senran Kagura: Estival Versus OST
Senran Kagura: Peach Beach Splash OST (Nararock Festival)
Opening Animations (Nararock Festival)
Other
Community content is available under
CC-BY-SA
unless otherwise noted.