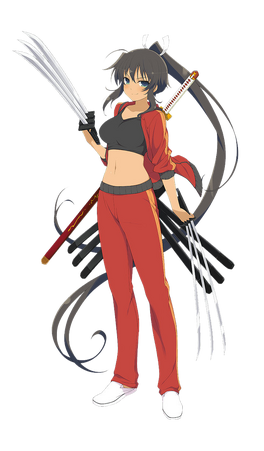 About Me
Hey there. I am Mayomi and I like Senran Kagura! I never imagined that I'd ever like it considering all of the fan-service. However, after I was introduced to Homura, I just fell in love. She embodies everything about me, myself, and an OC that looks exactly like her (created some years earlier than Homu so that's purely coincidental). Plus, she has fire and embodies Masamune Date which was all I needed because, UH,...SENGOKU BASARA!
Reminders & Notes
I am a college student so I have limited time to spare on the wiki. I will spare some time as sparingly as I can.
I'm a content moderator; so I moderate any and all content added to the wiki. If I happen to change something please come see me first. I will only involve an admin if a general consensus could not be reach. That being said, don't think it is a personal attack on your material. Just come talk to me and we can fix it together.
Projects
I have done mostly things related to Ninja Arts and informational based things. Though I mostly like working on Homura's stuff. So that is all I've decided I want to do. I will only edit things related to Homura. If I decide to do anyone else, I might but don't expect much.
Ninja Art Pages: Everything (Progress: 75%)
Homura's Gameplay: Everything (Progress: 33%)
Homura's Main Page: Everything
Homura's Ninja Arts: Everything (Progress: 100%)
Crimson Squad: Generally speaking, EVERYONE. That includes, but not limited to:
Ninja Arts
Gameplay Pages
Pictures
Etc.
Daidōji: Any and Everything that isn't already done. Working on the competition of her remaining Ninja Arts
Renka: All Ninja Arts have been completed
Hanabi: All Ninja Arts have been completed
Ryōki: All Ninja Arts have been completed
Senran Kagura Products
Games
I only intend on buying DEEP CRIMSON from the 3Ds series. Aside from that, it will only be VERSUS related things from here on out.
Books
Senran Kagura: Estival Versus -Shinobi Summary-
Soundtracks
Senran Kagura: Estival Versus OST
Senran Kagura: Peach Beach Splash OST
Character Rankings
General (Top 5)
Homura
Yumi
Murakumo
Miyabi
Renka
Honorable Mentions
Bebe-tan XD
Kiriya
Murasame
Daidouji
Rin
Gessen
Hanzo
Hebijo
Crimson Squad
Community content is available under
CC-BY-SA
unless otherwise noted.