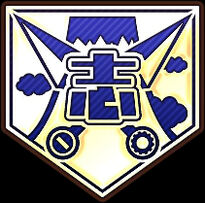 Shinozuka Technical High School
(県立志野塚工業高校, Kenritsu Shinozuka Kougyou Koukou, lit. Prefectural Shinozuka Industrial High School) is a shinobi school.  Shinobi from this school tend to be hobbyists. The school and
its associated characters
debuted in
Senran Kagura: New Wave
.
Distinguishing Characteristics
All of the shinobi students at this school are deeply into a specific hobby. Even their shinobi transformations reflect their hobbies.
The school itself poses as a regular high school, much like Hanzō National Academy. The shinobis pose as the Contemporary Visual Culture Research Club, a club which supposedly focused on otaku-related acitvites but actually serves as a front for their shinobi training.
Many of the members are also members of other regular clubs.
Notable Characters
Students
First Year Students
Second Year Students
Third Year Students
Trivia
Community content is available under
CC-BY-SA
unless otherwise noted.