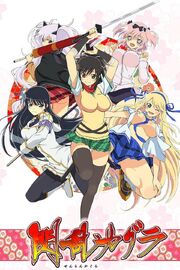 Senran Kagura: Ninja Flash!
is a television anime adaptation produced by Artland aired in Japan between January 6, 2013 and March 24, 2013. The series is directed by Takashi Watanabe with scripts by Takao Yoshioka and character designs by Takashi Torii.
[1]
The anime is licensed in North America by Funimation Entertainment, who streamed the series as it aired.
[2]
The English dub version of the DVD was released to the on U.S. July 29, 2014. Ninja Flash is a retelling of Senran Kagura: Burst. The
second season of Senran Kagura
was announced, though it does not continue after the events of Ninja Flash, but after 
Senran Kagura: Peach Beach Splash
.
[3]
Theme songs
Opening theme
Ending themes
Episode list
#
Episode Title
Airdate
1
The Ninja Standing on a Skyscraper
(Matenrō ni Tatsu Ninja, 摩天楼に立つ忍者)
2013-01-06
2
The Legendary Ninja Revealed
(Densetsu no Shinobi Arawareru, 伝説の忍あらわる)
2013-01-13
3
Moonlight Intruder
(Gekka no Shinnyūsha, 月下の侵入者)
2013-01-20
4
Seaside Training - Shinobi Island
(Rinkai Shugyō Shinobitō, 臨海修行・忍島)
2013-01-27
5
Surprise Attack on Hanzou Academy
(Kishū! Hanzō Gakuin!, 奇襲!半蔵学院)
2013-02-03
6
Linked Shinobi Barrier
(Rendō Shinobi Kekkai, 連動忍結界)
2013-02-10
7
Hiking Horror
(Kyōfu no Haikingum, 恐怖のハイキング)
2013-02-17
8
Shinobi Class Memories
(Tsuioku no Shinboi Kyōshitsu, 追憶の忍教室)
2013-02-24
9
Secret Serpent Academy for Girls
(Hiritsu Hebi Joshigakuen, 秘立蛇女子学園)
2013-03-03
10
Yin and Yang
(In to Yo, 陰と陽)
2013-03-10
11
Castle Showdown
(Kessen Tenshukaku, 決戦天守閣)
2013-03-17
12
Super Secret Ninja Art
(Chō Hiden Ninpo, 超秘伝忍法)
2013-03-24
References