Ryōki (両姫, often spelled as "Ryoki" or "Ryouki") is the deceased elder sister of Ryōbi and Ryōna, revived by Sayuri and the Mikagura Sisters during the Kagura Millennium Festival, acting as Sayuri's second and a member of the Overseers of the Festival while catching up time with her younger sisters during the event.
She was first mentioned in Senran Kagura: Shinovi Versus but later makes her first appearance and becomes playable in Senran Kagura: Estival Versus [1], later Senran Kagura: Peach Beach Splash, and Senran Kagura Burst Re:Newal as a DLC character. She serves as the final boss during Estival Versus and Peach Beach Splash.
Profile
Appearance
Ryōki is a tall girl with a generous complexion, clear white skin, black hime cut hair and dark blue eyes. Two hair bangs frame her face to descend to her bust while her back hair goes down to her knees in a bell shape. A halo floats above her head and she wears a cross-pattern ribbon with a golden button as a pin on the right side of her hair.
In her shinobi attire, she dons a 3-part blue dress composed of a knee-length two-layered skirt with black and gold trims; a white blouse with ruffled cuffs and a white ruffled collar with a black ribbon; a black vest with golden trims; a blue coat with sister blue checkered lapels, black and gold trims; and a darker blue short fringed cape. She wears with the dress white thigh-high stockings with fancy black ends and blue, gold and black boots with golden laces.
It has to be noted that most elements she uses or wears, with the exception of her rifle, bear 4 main colors: Blue, Black, White and Gold, and she has a unique checkered blue pattern, called "Sister Blue" as her underwear.
Personality
"Tee hee. I am Big Sis Ryōki."
Ryōki is a sweet, kind and caring girl who loves and cares mostly for her own younger sisters, and for others, presenting herself as everyone's big sister. As a polite, calm, warm and wise girl shown to be smiling and easily forgiving as with Miyabi, an actress of her death, she looks forward her sisters and others' growth and well-being. She's also shown to be very sleepy with her mission endings and her Shinobi Transform in Burst Re:Newal.
She also reveals to be a playful and lovable girl enjoying water activities among other kinds, playing with her status of spirit by spooking others, as well as smiling during her missions while performing certain moves. As a result of her incomplete revival, she loves Buddhist sutras and wooden fishes, which can calm her down and relieve her, even when she's in her Berserk mode. She usually serves as a second member for Neutral teams such as the Overseers, or as a secret asset, in the case of PBS, in both cases a final boss.
"TRY TO DODGE THAT, F*CKSAW!!!"
If her halo is touched, she changes to a radically different personality, which is more delinquent-like, violent, and actually her second personality that death separated. That personality is highly aggressive, as she attacks whoever is in her surroundings, or barely dislike anything from, insulting them and talking to them in a blunt and ever rude manner. During her living, only Ryōna was aware of her bipolar disorder, called by her a "mood".
She has the ability of disabling or enabling it by herself, such as during gameplay, but it has exceptions where the will to destruct overwhelms her, like in her Shinobi Girls' Heart in Estival Versus.
Background
When Ryōna and Ryōbi were younger, Ryōki would take care of them as a surrogate mother, play with them. She was looking forward herself and her sisters becoming equals who will fight together as shinobi. This was all she would do until she was enrolled into Gessen's Elites to afterwards be selected to be part of a team for a mission. To announce her enrollment, and that she won't be back home for a while, she prepared some BBQ for her sisters. While Ryōna was KO by a food coma, a kind of argument started with Ryōbi who told many reproaches and the "I hope you die." line that she will later regret in Estival Versus.
Afterwards, Ryōki was sent on a mission to take on a rogue Yōma with a team led by a Kagura, but was ambushed by Hebijo's team. It is during this mission she died by the hand of the targeted Yōma who killed her whole team and almost all of Hebijo among which only Miyabi and Imu survived and defeated the Yōma. Unfortunately, Miyabi was thought by most and accused by Ryōki's sisters to have killed everyone in a rampage, using the Forbidden Ninja Art Blood Riot despite that the only one killed by Blood Riot was the Yōma, who killed everyone it could before the activation of the forbidden technique which left Miyabi in comatose.
These rumors and the event's confusion led Ryōbi and Ryōna picking Miyabi as culprit and leaving the Gessen Girls' Academy Elites to join the Hebijo Clandestine Girls' Academy in order to prepare an assassination. Ryōki, knowing the truth, but powerless in the afterlife, could only fathom her sisters preparing to avenge her against the wrong culprit until Rin cleared the event to them. When she meets again with Miyabi during the Kagura Millenium Festival, Ryōki presents her excuses for her sisters about the trouble they caused but is glad to hear that Miyabi forgives them and considers them as reliable allies. She remains afraid that her sisters strive to avenge her and wishes them to have a long and happy life even without her.
Story
Kagura Millenium Festival
In Estival Versus, Ryōki was revived for the Kagura Millenium Festival that would take place in the story mode where she reunited with her sisters, and serves as the main "antagonist" and relatively central character of the game. She counts as the second member of the Overseers of the Festival after Sayuri and before the Mikagura sisters
During the ritual at the beginning of Estival Versus, she is part of the multiple deceased shinobi girls summoned by Sayuri to be sent to the afterlife. Upon noticing her and Sayuri about to send her too, Ryōna interrupts and charges as Ryōki enters her coffin which explodes when the sisters attempt to open it. She is found again by them on the island's beach, greeting them with a smile and signing the start of "8 miraculous days that will never be forgotten".
She is presented by Sayuri to all the shinobi teams after they arrived on the beach, to Miyabi's shock who witnessed her demise. Despite being officially an Overseer, she remains pretty passive among them and is seen often with the Hebijo team passing time with them and her sisters. She plays with the latter who discover halo's function, yet Ryōbi attempts to avoid her at all occasions and costs out of regret, except when she has to disable her berserk activated because of Ryōna twice in the story. During a picnic with the Hebijo members to eat rice balls she prepared, Ryōki reassures Murasaki and notices Ryōbi's avoidance, eventually arguing with her about it before Ryōna touches her halo for the second time.
Eventually, she sides with Sayuri to take part in some chats between her and the other teams, or have the Mikagura sisters reveal her secret. Still standing despite her defeat, with Sayuri, she forces the Mikagura to reveal their secret, which Kafuru lie about by pretending to have wanted to eat some rice balls like the Hebijo team. Ryōki guesses that they are searching for someone but pretends to have believed them and convinces Sayuri to let them go, as Kafuru scolds Hanabi later.
Her revival is, similarly to Mama for Miyabi, a great source of joy for Ryōna and of regret for Ryōbi who passes the different phases of mourning: denying and angry that she is seeing her again, yet bargaining and depressing to pass more time with her. She stays distant regretting what she said to her before she left and preferring to avoid her than expressing her own regrets. It is made clear for Ryōbi and Ryōna that Ryōki will only be with them for a limited time that Ryōki intends to enjoy to the fullest, and when Mama and Kurokage depart, they finally come to accept this and duel each other to prepare to challenge her.
When the Shinobi Bon Dance is about to end, she stands to guard the last Platform of the Overseers from the Hanzō team who defeated the Mikagura Sisters. During this last stand, she defeats Hibari, Yagyū, Katsuragi and Ikaruga with buckshot rounds and faces Asuka with depleted spirit ammunition. As Asuka lung on her, Ryōki nearly expects to lose but determined to win for her sisters with power, spirit and conviction, she surrounds her rifle with fighting spirit and crashes it into Asuka's side, insta-defeating her and all the Hanzō team by herself.
She greets her sisters for the finale and they confess to each other their regrets before she challenges them to fight with all their might. Even though she wins, she denounces that they held back before Ryōbi points out Ryōki held back herself. She accepts and activates her berserk for an encore, but interrupts it for a moment to confess to Ryōbi that she does remember what she told her the day before her death but admits that she actually saw it as Ryōbi maturing, and Ryōki's hope to draw closer before ruining it with her death. After sharing these last confessions, she re-activates her berserk persona to face them and engage the final fight to end the Shinobi Bon Dance.
Ryōbi and Ryōna achieve to defeat her with difficulty and Ryōki acknowledges their power and improvements and they bid each other their farewell with emotion, Ryōki feeling as the happiest sister proud of them. The Hebijo Team is declared victors though Ryōbi and Ryōna decline for their first defeat to Ryōki, and the final rituals are organized by Sayuri and the Mikagura Sisters to prepare Ryōki's departure. Ryōki returns to the afterlife, reconciled with Ryōbi and bidding farewell again to both her younger sisters and hugging them a last time.
At the dance of the Mikagura, she rises and disintegrates in the sky at the still great sorrow of her sisters under their eyes and all the other teams'.
Shinobi Girl's Heart
Story
Ryōki asks her sister to accompany her for a stroll, to make sure she has no regret as her time with them is limited. Through Ryōna accepts with excitement and ask her sister about if she wanted to do same, Ryōbi looks away, and accepts reluctantly. Ryōki remarks that Ryōbi's reaction is strange, but heads out with her sisters anyway.
She recalls of when she and her sisters used to go out everywhere together, and of so many pleasant memories like when they stood up against bullies, or played home in a vacant lot, and that Ryōbi used to follow her like a puppy.
Suddenly, Ryōna tells Ryōki that she is fine with going out but that she wants to play a different game, to which Ryōbi punch her and knock her down. The hit's sound startles Ryōki, surprised that Ryōna can take such a strike. Ryōbi asks Ryōna if she was thinking something stupid again, to which Ryōna replies that she thinks about whatever make her feel good, not something stupid. Ryōbi smacks Ryōna again right across the cheek, making Ryōna's eyes roll back and her nose bleed. Ryōki sees by her expression that Ryōna is happy with it.

Ryōbi insults Ryōna and orders her to not give "that look", and aims her punch to Ryōna's face. Ryōki can't leave them both to a brawl even if Ryōna is asking for it, and steps between them to try to calm the game. Ryōbi through punches into Ryōki's halo, which leads to her going into her berserk personality. Ryōbi just realizes what she did that Ryōki shouts at her that she wasn't allowed to do that, and insults her. An intense and destructive rage rushes inside her, that she can't resist nor stop, and all she wants to do thus is thrash and scream. This is where her rampage begins.
"Since we're all here, why don't we all go out?" -Ryōki
Ryōki starts by Ryōna inside the Onsen's facility, and threats her to give her a super dish worth of bullying, not even Ryōna's kind. Ryōna is happy with it and asks for it.
Ryōki thus strikes Ryōna and insults her, to which Ryōna asks in excitation that she speak meaner. Ryōki replies that this isn't just about talk, and calls Ryōna naive. Ryōna thus asks her what she plans to do with her, overexcited. Ryōki answers that she is going to shove something somewhere into Ryōna so hardly that she won't be able to live without suffering (some words were censored, but they can be guessed). Ryōna gasps in excitation, praise the awesomeness of what Ryōki planned, telling her that such plans might make her pass out.

Ryōki defeat Ryōna, satisfying the latter's masochistic desires, and telling them that her rampage just started, she asks about where is her next prey.
"I still need to rage a LOT more! Come on, punks!" -Ryōki
Ryōki continues by Murakumo and Shiki on Gessen's roof, and shouts asking where are the bad girls. Shiki notices that Ryōki has gone mad, calling her "Ryōkey-dokey", to which Ryōki replies that she found her, calling her "Mountain Girl". Shiki tells and implies to her that even with how she talks, "mountain girl" is somewhat inaccurate. Ryōki tells in in rage that she has no discipline nor respect, and thus that she is going to be straightened hardly. Shiki comments about how unfair is that she is told that she has no discipline just because of her look.
When the fight begins, Ryōki says that it's time to slay the Mountain Hag, to which Shiki replies with "as if", and tell her that she needs to calm down. Ryōki tells her that she makes a mockery of human speak, to which Shiki starts to recite a Sutra, to which Ryōki start to calm down. Shiki tells her that she needs to get out of that violence mode, but Ryōki ultimately fails to calm down, and tells her that she is not going to go away with it.

Once she defeats both Murakumo and Shiki, Ryōki comments that the Heart Sutra is no joke, as it was about to make her violent personality rest in peace.
"I've been training on the other side! Let's duke it out right now, Miyabi!" -Ryōki
On Hebijo Academy's roofs, Ryōki shouts that she found Miyabi. Miyabi notices that she seems rowdy that day, to which Ryōki replies that as they never settled their scores, she wants herself and Miyabi to do it right now, thus challenging her. Miyabi accepts her challenge and embraces for combat.
When the fight begins, Ryōki tells Miyabi to get prepared as there is Yōma or anything to get on their way. Miyabi replies that she continued training even after Ryōki's death, to which Ryōki say that she continued training on the other side, to Miyabi's surprise, who ask her if that is possible. Ryōki tells her that it is, and asks her if she wants to come along. Miyabi politely refuses.

Once Miyabi has been utterly defeated, Ryōki comments that she found the fight fun, but says that she is done yet.
"You want to know what's the other side's like? Let me send you there!" -Ryōki
Ryōki challenge Asuka, Yagyū and Renka on the Shinobi Festival grounds. She tells she is spying on a one-eyed squid girl, who is Yagyū, and threats to dry her up and eat her. Yagyū tells Ryōki's name in a gloomy way, which Ryōki notices and ask the reason of that gloom. Yagyū answers that she envies her, as Ryōki still has two (alive) little sisters, being a big sister like her. Ryōki brag on that, but when Yagyū tells that her own little sister is no longer with them, Ryōki apologizes for her inconsideration. Yagyū humbly replies to her that she is fine and that Ryōki has no need to change her account on her.
When the fight beings, Yagyū asks Ryōki about how is the afterlife. Ryōki answers angrily to the question by saying that she will only know it when she will die. Yagyū agrees but tells her she can't die yet. Ryōki asks her if it's about Yagyū's deceased little sister, to which Yagyū approve. Ryōki thus declares that the afterlife is bright, pleasant, warm, and full of delicious food of all kinds. Yagyū compliments her kindness by saying this, to which Ryōki ask about why do Yagyū think she was kind. But Yagyū thanks her either way. Ryōki replies that a ghost is not thanked, but paid respect to, and laughs evilly.

Once Yagyū, Asuka and Renka lie in defeat, Ryōki says that the chat stopped her flow.
"I'm close to resting in peace. But I still want to be with you both." -Ryōki
In the Forest of Requiem, Ryōbi intercepts Ryōki, and requires her to snap out of her berserk mode. Ryōki replies that Ryōbi will need to do that herself if she wanted Ryōki to stop. Ryōbi then comments about Ryōki's alternate personality, commenting about how touching the halo led to her going berserk was nonsense to her. Ryōki tells her that it doesn't matter as the most important is that it is entertaining. Ryōbi asks to who it is entertaining, not understanding her point.
When the duel begins, Ryōki asks Ryōbi if she thinks that she will really talk her down. Ryōbi replies that she might be all talk, and, if Ryōki wants to take on her, that she do it already. Ryōki compliments her courage, considering that Ryōbi followed her around like a kind of goldfish. Ryōbi replies that she is no longer Ryōki's cute little sister, and, even with her small chest, she is leading a revolution (see her own SGH). Thus, Ryōki taunts her and tells her to come on her, as she is going to take her down. Ryōbi, infuriated, replies that she will show her her abilities.

Once Ryōbi finished, Ryōki tells Ryōbi that she wasn't bad and remarks that she wasn't all talk herself after all.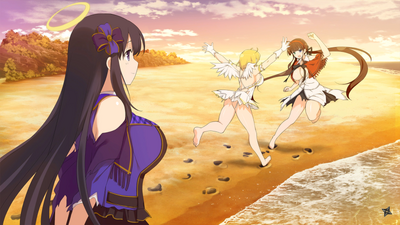 Ryōna ends Ryōki's berserk by touching her halo after she found an opening. Calmed down, Ryōki remarks that Ryōbi got stronger, meaning every word of what she said. She thinks about how her little sisters grew so much without her, a thought overwhelming her with you, and making her cry of happiness.
Ryōbi challenges Ryōki again, but Ryōki thinks that she can only fight with either of them a limited around of times, as each connection with one of her sisters make her regrets left slowly fade away. Thus, the closer they become, the sooner she will leave.
Ryōna interrupts them and tells them to go for the stroll they originally planned, smiling brightly as she runs along the shore, and waving at her once she gets to the surf. Ryōki thinks that when she is out here in the warm sun on the beach, she feels alive almost enough to forget that she died already.
Ryōbi interrupts her by muttering if Ryōki is going to pass on when she will be out of regrets, next to her. Ryōki approves and replies that she believes that she will fade away from their perspective. Thus, Ryōbi walks away from her, along the shoreline in a futile attempt to make Ryōki stay longer by staying far from her.
Futile, as Ryōki knows that she will do that for the sake of keeping her there, and that sentiment alone will be enough to satisfy her old regrets anyway. Even if they arrive to stretch their time together a bit further, her departure is inevitable. But Ryōki won't feel lonely, as her passing will prove that Ryōbi and Ryōna's love is real.
Her little sisters play around on the shore, she squints in the sun and watch them, and says finally...
"I'm unbelievably blessed right now."
Dialogue
Ryōki: "Ryōna, Ryōbi. Would you like to join your sister for a walk?"



---


I do my best to invite them both on a stroll.
My time here is limited. I want to make sure I have no regrets.

Ryōna: "Yeah, yeah! We definitely want to go! Right, Ryōbi?"



---


Ryōbi looks away when Ryōna asks her.

Ryōbi: "If Ryōna wants to go...then I guess I can tag along."

Something feels a little off with that, but we head out together regardless.



---


When the two of them were kids, we would all go everywhere together.
I remember playing house with them in a vacant lot, or that time we all stood up to the neighborhood bullies... So many pleasant memories to look back on now.
And back then, Ryōbi used to follow me around like a puppy.



---


Ryōna: "Hey Ryōki, it's fine if we want to go for a walk, but I want to play a different game too."

Ryōna: "Eek!"

Out of nowhere, Ryōbi smacks Ryōna in the face and knocks her down.
The sound startles me.
I'm surprised she's okay after being hit that hard.



---


Ryōbi: "You were just thinking something stupid again, weren't you?!"
Ryōna: "Not stupid, no. I just think about whatever makes me feel good."
Ryōna: "Ooooooh!"

Without a thought, Ryōbi smacks Ryōna again, right across the cheek.
Ryōna bleeds from her nose. Her eyes roll back.
But judging by the look on her face, it must feel good to her.



---


Ryōbi: "Don't give me that look! That's gross, you dirty sow!"

Ryōbi closes her fist and aims it at Ryōna's face.
Even though Ryōna's literally asking for it, I can't just leave them both to it.

Ryōki: "All right, all right, that's enough, you two."

I step in between the two of them.



---


In the next instant...



---


Ryōbi's fist comes into contact with my halo.

Ryōbi: "Oh sh..."



---


Ryōki: "I TOLD YOU, YOU CAN'T F*CKING TOUCH THAAAT! YOU F*CKING IDIIIOOOT!"

An intense and destructive nature rages within me.
I can't resist it. I can't stop it.


All I want to do is thrash and scream.

"Since we're all here, why don't we all go out?" -Ryōki

Beginning of Mission:

Ryōki: "HOOOAAAAH! IF YOU WANT TO BE F*CKING BULLIED, THEN I'LL BULLY YOU UNTIL YOU'RE A F*CKING SACK OF MEAT!"

Ryōna: "That's what I've been waiting for! Bully me, bully me! Definitely bully me!"

Ryōki: "THIS AIN'T YOUR KIND OF BULLYING, YOU LITTLE SH*T!"

Ryōna: "That's fine! The regular kind was getting old."

Ryōki: "ALL RIGHT, ONE SUPER DISH'S WORTH OF BULLYING, COMIN' UP, YOU PERVERTED PIG!"

Ryōna: "Ooooh! I've been waiting for this!



---


When facing Ryōna:

Ryōki: "TAKE THIS, TAKE THIS, TAKE THIS! YOU TWISTED LITTLE BIRD!"

Ryōna: "Ooh, ooh, keep talking! Meaner, meaner!"

Ryōki: "YOU THINK THIS IS ALL ABOUT TALK?! YOU'RE TOO F*CKING NAIVE!"

Ryōna: "*pant* *pant* Ryōki, what are you planning to do with me?! What am I about to go through?!"

Ryōki: "FIRST, I'M GOING TO F*CKING SHOVE A *bleep* INTO YOUR *bleep* AND I'LL TURN YOUR F*CKING BODY INTO *bleep* UNTIL YOU CAN'T LIVE WITHOUT *bleep*!"

Ryōna: "Eeeek! That sounds awesome! You'll make me pass out doing all that!"



---


After defeating Ryōna:

Ryōki: "MY RAMPAGE IS JUST GETTING STARTED! WHERE'S MY NEXT PREEEEEY?!"


"I still need to rage a LOT more! Come on, punks!" -Ryōki

Beginning of Mission:

Ryōki: "WHERE ARE THE BAD GIIIRLS?! LET ME RAAAAAAGE!"

Shiki: "Crap! Ryōkey-dokey's totally wiggin' out!"

Ryōki: "I FOUND YOU, MOUNTAIN GIRL!!"

Shiki: "Uh, Ryōkey-dokey? "Mountain Girl"? Really? I mean, I get that it's a play on, y'know, the way I talk, but..."

Ryōki: "You have no discipline. No respect. And I'm gonna straighten you RIGHT THE F*CK OUT!"

Shiki: "Hey, I have discipline! Don't judge me on my looks. That's way unfair!"



---


When facing Shiki and Murakumo:

Ryōki: "HAAAAAAA! TIME TO SLAY THE MOUNTAIN HAAAAAG!"

Shiki: "Okay, "Mountain Hag"? As if. You totally need to take a chill pill."

Ryōki: "YOU MAKE A MOCKERY OF HUMAN SPEECH, YOU MONSTER!!"

Shiki: "Yeah, okay, how about this instead? "Avalokita, the Holy Lord and Bodhisattva, was moving in the deep course of the Wisdom which has gone beyond...""

Ryōki: "HUUUHHH?! I FEEL SO PEACEFUUULLL!!"

Shiki: "Ryōkey-dokey, you need to get out of that violence mode."

Ryōki: "TH-THAT WAS CLOSE! I NEARLY PASSED ON! YOU'RE NOT GETTING AWAY WITH THIS, SHIKIII!"



---


After defeating Shiki and Murakumo:

Ryōki: "THE HEART SUTRA IS NO JOKE! I WAS FEELING SO GOOD, I WAS ABOUT TO REST IN PEACE!"


"I've been training on the other side! Let's duke it out right now, Miyabi!" -Ryōki

Beginning of Mission:

Ryōki: "I FOUND YOU, MIYABIII!"

Miyabi: "Hm? Ryōki? You seem rather rowdy today."

Ryōki: "WE NEVER SETTLED OUR SCORE, DID WE?! LET'S DO THIS RIGHT HERE! RIGHT NOW!"

Miyabi: "Hmph, very well. I accept your challenge!"



---


When facing Miyabi:

Ryōki: "THIS TIME, NO ONE WILL GET IN OUR WAAAY! PREPARE YOURSEEELF!"

Miyabi: "Even after you died, I continued my training. I won't go down so easily!"

Ryōki: "I KEPT TRAINING ON THE OTHER SIDE, B*TCH!"

Miyabi: "Y-you can train on the other side?"

Ryōki: "YEAH, AS MUCH AS YOU WANT! YOU WANT TO F*CKING COME ALONG, MIYABIII?!"

Miyabi: "N-no, I'll pass."



---


After defeating Miyabi:

Ryōki: "That was pretty damn fun, Miyabi...BUT I AIN'T DONE YET!!"


"You want to know what's the other side's like? Let me send you there!" -Ryōki

Beginning of Mission:

Ryōki: "I SPY A ONE-EYED SQUID GIRL! I'LL DRY YOU UP AND EAT YOU ALIVE, B*TCH!"

Yagyū: "Ryōki..."

Ryōki: "WHAT?! WHY ARE YOU ALL F*CKING GLOOMY?!"

Yagyū: "Because I envy you. We're both big sisters, but you have two little ones..."

Ryōki: "HOW ABOUT THAT?! I BET YOU'RE REAL JEALOUS!"

Yagyū: "Of course I am. My little sister is no longer with us."

Ryōki: "I-I see... Sorry for being so inconsiderate."

Yagyū: "No, don't worry about it. No need to change on my account."



---


When facing Yagyū, Asuka and Renka:

Yagyū: "Although...Ryōki, what's it like on the other side?"

Ryōki: "GOD, NOT THAT F*CKING QUESTION AGAIN! YOU'LL KNOW AFTER YOU F*CKING DIE, OKAY?!"

Yagyū: "That's true but...I can't die just yet."

Ryōki: "...You worried about your dead sister...?"

Yagyū: "...Yeah."

Ryōki: "...TH-THE OTHER SIDE IS WARM! AND BRIGHT! AND PLEASANT, DUH! AND THERE'S ALL KINDS OF DELICIOUS FOOOOOD!"

Yagyū: "...Heh. It's kind of you to say that."

Ryōki: "WH-WHY THE HELL DO YOU THINK I'M BEING KIND, YOU DUMBF*CK?!"

Yagyū: "...Well, thank you either way."

Ryōki: "YOU DON'T THANK A F*CKING GHOST! YOU PAY YOUR RESPECTS! HA HA HA HA HA!"



---


After defeating Yagyū, Asuka and Renka:

Ryōki: "N-NOW YOU'VE MESSED UP MY FLOOOOW!"


"I'm close to resting in peace. But I still want to be with you both." -Ryōki

Beginning of Mission:

Ryōbi: "Sis, would you snap out of it already?"

Ryōki: "IF YOU WANT ME TO STOP, THEN MAKE ME!"

Ryōbi: "Ugh! Isn't this "alternate personality" sh*t kinda weird, when you think about it? You touch a halo and go berserk? Why? It doesn't make any sense."

Ryōki: "DON'T YOU F*CKING WORRY ABOUT IT! IT'S ENTERTAINING, ALL RIGHT?! THAT'S MORE IMPORTANT!"

Ryōbi: "..."Entertaining" to who? What are you talking about?"



---


When facing Ryōbi:

Ryōki: "C'MON, C'MON, C'MON! YOU THINK YOU CAN JUST TALLLK ME DOWN?!"

Ryōbi: "Well, maybe you're all talk! Why don't you come at me already! All out! Let's go!"

Ryōki: "YOU REALLY GOT SOME BALLS TO SAY THAT! ESPECIALLY WHEN YOU WERE FOLLOWING ME AROUND LIKE A PIECE OF GOLDFISH SH*T!"

Ryōbi: "I'm not just your cute little sister anymore. I mean, my boobs are still little, but other than that! I'm leading a revolution now!"

Ryōki: "THEN HURRY UP AND SHOW ME, YOU F*CKIN' B*TCH! I'LL TAKE YOU DOWN HARD!"

Ryōbi: "I'll show you... I'LL SHOW YOU, YOU B***TCH!!"



---


After defeating Ryōbi:

Ryōki: "N-not bad... Looks like you weren't all talk after all."

Ryōna: "OK, that's enough! Here, lemme touch that!"

Ryōna finds an opening, reaches out and touches my halo.
A deep calm flows through me all at once.



---


Ryōki: "*pant* *pant* You've gotten stronger, Ryōbi."

I truly mean every word of that.
While I've been away, Ryōbi and Ryōna have both grown so much.
Just the thought of it overwhelms me with joy and brings tears to my eyes.



---


Ryōbi: "I can get stronger than that. Let's go another round."



---


Another round...?
Unfortunately, I can only spar with either of them so many times.
Every time I connect with Ryōbi or Ryōna, the regrets I left in the mortal world slowly fade away.
In other words...
The more closely we bond, the sooner I have to leave.



---


Ryōna: "C'mon, Ryōki! Let's go for that walk!"
Ryōna smiles brightly as she runs along the shore.
When she gets to the surf, she looks at me and waves her hand.
When I'm out here in the warm sun, with the sand between my toes, I feel alive.
Almost enough to forget that I'm already dead.

Ryōbi: "...Once you're out of regrets, you're going to pass on, right?"

Ryōbi, standing next to me, mutters those words.



---


Ryōki: "Yes, that's right. From your perspective, I believe I'll fade away."

Ryōbi walks away from me, along the shoreline.

Ryōbi: "Then I'll make sure we don't get along, so you'll never fade away."



---


No.
It doesn't work that way, Ryōbi.
You say you don't get along, but it's just for the sake of keeping me here...and that sentiment alone will be enough to satisfy my old regrets.
Even if you can stretch our time together just a bit further, the day we say our goodbyes is coming soon.
But I won't feel lonely.
Because my passing will be proof that Ryōbi and Ryōna's love is real.



---


Ryōbi and Ryōna are playing around on the shore.
I squint in the sun and watch them.

Ryōki: "I'm unbelievably blessed right now."
After the four schools chapters in Peach Beach Splash, Meiun seals the PBS archipelago with the energy gathered thanks to the tournament, trying to save the chosen individuals from Shin. In an attempt to flee of that seal, the four originally present teams attempt to use ships, that blow up, and the rainbow bridge, specifically the Gessen team. However, the rainbow bridge is shattering from the seal's pressure, and when Yumi and her friends attempt to run on it before it breaks, Ryōki finds the bridge after wandering from the afterlife due to a dimensional rift and decides to walk across it, wondering how it is to walk on one in effect. The bridge collapses below her feet as she nearly reaches its end, making her fall in water screaming and obtaining a pseudo-reincarnation.
After she found a water gun upon getting up, she plays her first PBS game. She recalls playing with water with Ryōbi and Ryōna at the swimming pool when they were together, remarks about how strange and awkward it would be to meet them after what's supposed to be her departure in Estival Versus. In effect, both of her sisters are surprised to see her again, but become initially happy with it and Ryōki insists on a water gun fight against Hebijo, in which she is found to be a strong opponent. However, Ryōki disappears shortly afterwards, and warns the team about the arrival of the Mikagura Sisters, promising to her sisters that they'll see her again.
In the final act, Meiun states that he's still unsatisfied with the girls' performance and refuses to let them leave, announcing that he will destroys the rainbow bridge each time it do appear again, telling that they're not ready to face Shin, which he failed to do himself. Though, moved by the girls' enthusiasm and determination, he orders Kiriya and Rin to fly them to a nearby island to face one final test, his last machine. When they arrive dropped from the sky by Kiriya, Rin' and the Machines, they find a battle machine called "Heaven's Casket" piloted by Ryōki acting as a DJ, a machine that is some representation of herself, bearing similar patterns to her and her weaponry. Working together, Asuka, Homura, Yumi and Miyabi are able to defeat her and Meiun finally allows them to leave. Although Ryōki tells her sisters that it's time to leave, she promises them that they will see her again, and possibly disappears like at the end of her second PBS game.
Fighting Style and Gameplay
Main Articles: Ryōki/Estival Versus  · Ryōki/Peach Beach Splash  · Ryōki/Burst Re:Newal
Ryōki fights at close range using a break-action dual-barrel shotgun and a great round shield concealing missile launchers. Her assets lay in her versatility and combination of a fair speed, good strength and suppression that topples or unbalances her opponents, and even stun them, without much difficulty. Though her attacks are individual and have fair but somewhat limited area of effect as she charges her target gun first and that can give difficulty with massive crowds as numerous enemies can attack her from the back and sides, or range. In Burst Re:Newal she gains the ability to use hand grenades in her combos, and as heavy attacks a powerful buckshot fire better used at close range as well as the ability to have bullets rain on her opponents; whereas in Estival Versus she only threw her shield to bring her opponents in close and eventually strike them with her shield again.
Ryōki's reliability allows her to take on Daidōji and others with moderate ease, but when it comes to Rin and Sayuri, they prove to be tougher opponents with their speed and power.
Her Secret Ninja Art, Happy Missile, consists of a frontal attack that will pummel and topple opponents in front of her with a barrage of missiles from her shield. Her Super Secret Ninja Art, Happy Rain, has her tossing her shield up above and shooting at it to hit enemies around her, ideal to scatter opposition and counter Secret Ninja Arts. And then finally, Ryōki's Ultimate Ninja Art, Happy Turn, transforms her into her secondary mode where she turns to her Berserk side for a short duration, but not before unleashing a two-hit attack that devastates opponents that are point-blank.
Accessed through Happy Turn, her Ultimate Art, Ryōki's Berserk mode will have her fight in a different style using her heavily weaponized coffin with a Gatling gun and missile launchers, and serving the whole coffin as a blunt weapon. At the slight sacrifice of attack speed, her attacks have a better area of effect, do more damage, and topple her opponents. Her heavy attack consist in this mode of firing her Gatling gun which can easily break enemies' guard, and when held, unleashing countless homing missiles at a single target.
"Ryōki wields a shotgun and shield, making her a well-balanced character effective at any range. Her individual attacks have decent range and are largely good for taking out multiple enemies. Additionally, her Breach Art is useful for keeping up a combo, and her charged Breach Art is handy for breaking the enemy's guard. Her Ultimate Secret Ninja Art takes her into a special mode where she uses her coffin as a weapon. The coffin has great reach, and just swinging it will deal massive damage. Take advantage of it! -Estival Versus: Ryōki's Battle Card
Ninja Arts
Secret Ninja Arts
Ultimate Secret Ninja Art
Themes
The music tracks played for Ryōki in the games.
Trivia
External Links
References
2. https://gematsu.com/2014/11/senran-kagura-estival-versus-five-new-characters-detailed