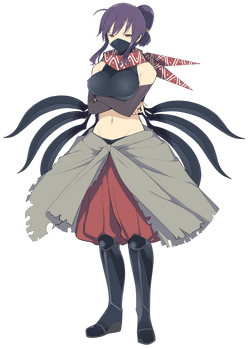 Rin (凛), also known as Suzune (鈴音), is a character from the Senran Kagura series. She makes her debut in Senran Kagura Burst.
Background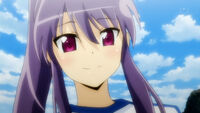 Rin was a former student that attended Hanzo Academy, under the direction of Kiriya, and whose skill rivaled that of Daidōji. She trained very hard, hoping to attain a dream of becoming what she referred to as a Super Ninja. She wasn't very much meant to graduate however because during her exam, she was "saved" by Kiriya by taking out a dummy who had snuck up on her.
She decided to defect from Hanzo Academy after an incident where many thought she was dead, and then reappeared as Suzune, the teacher of Hebijo Academy.
After she graduated from Hanzo Academy, she was assigned a seriously dangerous mission by the state, which sent her to seaside cavern. A team of good ninja was sent along with a Kagura to kill yoma, though it only took minutes for the monsters to decimate the entire team, with Rin as the only survivor. Though an evil ninja team was sent and they killed every yoma, Rin's young arrogance was shattered by her defeat, causing her to do nothing but cry while she recuperated in the hospital.
While recovering, she decided not to return to Hanzo Academy a failure, and luckily the President of Hebijo Academy, Miyabi's father offered her a teaching position at Hebijo. Though Rin told him her origins as a good ninja, she fixated into her memory the phrase, "Good accepts few, evil accepts all," the creed of Hebijo Academy.
Other Appearances
Games
New Wave
Bon Appetit!
Books
Anime
Related Article: Rin/Ninja Flash!
Trivia
Her pseudonym Suzune means "Bell Sound", while her actual name Rin means "Cold".
External Links
Rin/Suzune in Top Strongest wiki
Community content is available under
CC-BY-SA
unless otherwise noted.