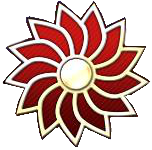 Overseers of the Festival(カグラ千年祭執行部, Kagura Sennensai Shikkoubu, Overseers of the Thousand Year Kagura Festival) are a group of shinobi that debuted in Senran Kagura: Estival Versus. Led by Sayuri, they serve as one of the participating teams in the Kagura Millennium Festival and the Shinobi Bon Dance.
Through the team reappears in Senran Kagura: Peach Beach Splash, but are not introduced as members of the Overseers of the Festival faction.
Distinguishing Characteristics
The Overseers mostly have traditional Japanese clothing, mainly when it comes of the Mikagura Sisters, and Sayuri in her normal form, the team's main members. The exception is made for Ryōki, who is Sayuri's second and has rather old European clothing.
Unlike the other Shinobi teams, the Overseers are not an uniform group of 5 shinobi girls, but are formed of a group of 3 girls with 2 independent ones. Though they work as a team, there is no the relation between members characteristic of the others teams: The Mikagura Sisters care for themselves, Ryōki cares for her own sisters, and Sayuri just manages them all.
Notable Members
Despite all being members of the Overseers of the Festival, their intros credit them differently.