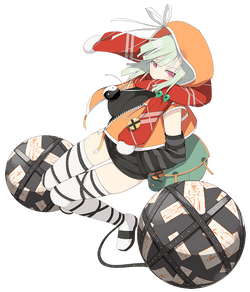 Naraku (奈楽) is a character from the Senran Kagura videogame series. She makes her debut in Senran Kagura 2: Deep Crimson.
Background
Naraku is a member of the Goshin Clan and was appointed priestess and guardian of the Reincarnation Sphere, as well as given the responsibility of helping fully reawakened Kagura.
Ever since she was a child, she spent her days overseeing Kagura while she remained in the Reincarnation Sphere, awaiting her rebirth.
Other Appearances
Games
Gallery
Trivia
Naraku's name has no real translation, but is very close to the Japanese for "Naraka (奈落), while replacing the second character with "comfort, music" (楽).
Matching her name, all of Naraku's Ninja Arts share symbolism to the underworld or the afterlife.
According to her bio in Estival Versus, she's from the same village as the Mikagura Sisters.
It can be assumed that Naraku may have issues or glaucoma with her left eye due to her dressing room voiceline in Peach Beach Splash. However, it may be a reference to how she got slightly injured in Senran Kagura 2: Deep Crimson