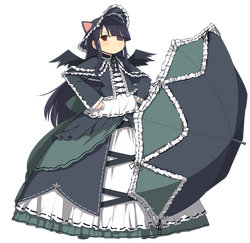 Mirai(未来) is a playable character from the Senran Kagura video game series. She makes her debut in Senran Kagura: Portrait of Girls
Background
Mirai was bullied a lot and so became distrustful of other people. She searched the Hebijo BBS for some friends, but after the influences of a certain incident, she got the wrong impression and thought that she might end up hurting her friends. To prevent this, she ran away from Hebijo; however, her friends caught up and told her how much they loved her. She was the last member to join the Hebijo Elite Class...
Other Appearances
Games
Related Article: Mirai/New Wave
Books
Senran Kagura: After School (Anthology Comic)
Senran Kagura:Guren no Uroboros
Senran Kagura:Senshi Bankō no Haruka
Senran Enji Kyonyū-gumi
Anime
Related Article: Mirai/Ninja Flash!
Trivia
Mirai's name means "Future".
Among all of her comrades, Mirai is the one of the few characters with small breasts due to her child-like characteristic. This being so, she has one of the smallest breasts in the Senran Kagura canon, alongside Muramasa (a fellow A cup) and Ryoubi (a AAA cup).
As a play on Mirai's name, which translates to "future", Mirai has a pen name where she writes an online book under the name Futsure, where she took "future" and made it sound like a Japanese word.
One of her online books, Rapunzel the Shinobi in its Synopsis (starting out with a harem of princes but revealing a dark tale, might be a nod towards the Senran Kagura series whose fanservice full nature hides a sometimes dark plot.
In SHINOVI VERSUS, the animation for her Ninja Arts change when she is not in her default shinobi attire. This is also true when she is in Frantic or the lower half of her outfit is stripped completely.
Gallery
External links
Mirai on the Heroes wiki.