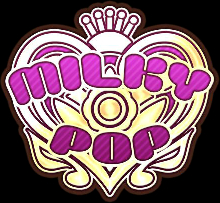 Milky Pop (ミルキーポップ) is a popular brand-new idol group composed of five high school girls. These members secretly live double lives as shinobi students. This faction debuted in Senran Kagura: New Wave.
Distinguishing Characteristics
The fact that they are idols as well as shinobi makes their lives difficult, and each member deals with this issue in her own way.
Additionally, all the members apparently wear the same school uniform when not in their idol personas (or shinobi state), the name of their school is unknown.
While they attend a good shinobi school, they keep their shinobi activities secret from the offices and managers at Platinum Create, the company that manages their new idol career.
The group was created when Mai was accidentally scouted and then wanted to bring her friends on board. Tamaki was immediately for it and soon convinced the rest.
Notable Characters
Milky Pop Members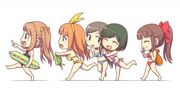 First Year Students
Second Year Students
Third Year Students
Trivia