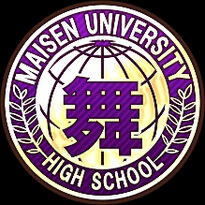 Maisen University High School (私立舞扇大学附属高校, Shiritsu Maisen Daigaku Kufuzoku Koukou, Private Dancer's Fan Academy Auxiliary Highschool) also called "Dancer's Fan Academy" is a shinobi school that houses international shinobi. The school and its associated characters debuted in Senran Kagura: New Wave.
Distinguishing Characteristics
Maisen University High School is a private high school that is attached to Maisen University. However, the university has nothing to do with shinobi.
The school appears to be a normal high school. However, there is a special class for international students that serves as cover for the training of Good Shinobi. The school has an interest in exchange programs to send shinobi to various places so they can gain training in overseas operations.
The school's five notable students all have different nationalities (either due to mixed heritage or due to being a foreign exchange student coming to Japan) compared to the majority of the other characters in the series.
Notable Characters
Students
First Year Students
Second Year Students
Third Year Students
Trivia