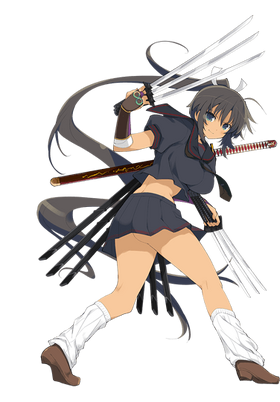 The following page covers Homura's gameplay in Senran Kagura Burst.
Statistics
Homura's in-game stats from level 1 to level 50. Please note the numbers listed under the level intervals (anything with a +) does not indicate how much the stat increases between the two levels but rather how much it increases for every 1 level in that range:
Numbers in parentheses are values for when she is Crimson Homura.
| Type | Initial | Lv. 2 - Lv. 10 | Lv. 11 - Lv. 20 | Lv. 21 - Lv. 30 | Lv. 31 - Lv. 40 | Lv. 41 - Lv. 50 | Max (Homura) | Max (Crimson) |
| --- | --- | --- | --- | --- | --- | --- | --- | --- |
| Health | 360 (360) | +10 (+11) | +15 (+17) | +19 (+22) | +23 (+27) | +80 (+160) | 1820 | 2719 |
| Attack | 115 (125) | +1 (+2) | +2 (+3) | +2 (+4) | +2 (+5) | +11 (+14) | 294 | 403 |
| Defense | 92 (116) | +1 (+1) | +1 (+1) | +2 (+2) | +2 (+2) | +3 (+3) | 181 | 205 |
| Endurance | 38 (120) | +2 (+2) | +1 (+1) | +1 (+1) | +1 (+1) | +5 (+5) | 136 | 218 |
Combo Table
Normal Attack
| | | | | | | |
| --- | --- | --- | --- | --- | --- | --- |
| 1 | → | 2 | → | 3 | → | 4 |
| | | ↓ | | ↓ | | |
| 1 | | → | → | 2 | | |
| Tentative Name | Skill Name | Aerial Rave | Desc. | Hit Count |
| --- | --- | --- | --- | --- |
| 1 | San hi migi metsu | × | | |
| 2 | San hi hidari metsu | × | | |
| 3 | Roku hi natsu-kō tsubasa | × | | |
| 4 | Roku hi shishi ha | ○ | | |
| 1 | Kani hasami | × | | |
| 2 | Roku hi ten okuri | ○ | | |
Yang
| | | | | | | | | | | | | | | |
| --- | --- | --- | --- | --- | --- | --- | --- | --- | --- | --- | --- | --- | --- | --- |
| 1 | → | 2 | → | 3 | → | 4 | → | Yang 1 | → | Yang 2 | → | → | → | Yang 3 |
| | | ↓ | | ↓ | | | | ↓ | | | | ↓ | | |
| 1 | | → | → | 2 | | | | → | → | Yang 1 | → | Yang 2 | → | Yang 3 |
| | | | | | | | | | | | | ↓ | | |
| | | | | | | | | | | | | Yang 4 | | |
| Tentative Name | Skill Name | Aerial Rave | Desc. | Hit Count |
| --- | --- | --- | --- | --- |
| Yang 1 | Honō kiba | × | | |
| Yang 2 | Kōga | × | | |
| Yang 3 | Shi harai | ○ | | |
| Yang 4 | Hiiro-tōge | ○ | | |
| Yang 1 | Kyō inu | × | | |
| Yang 2 | Kemono rengoku | (○) | | |
| Yang 3 | È chā Dokuro | ○ | | |
Yin
| | | | | | | | | | | | | |
| --- | --- | --- | --- | --- | --- | --- | --- | --- | --- | --- | --- | --- |
| 1 | → | 2 | → | 3 | → | 4 | → | → | → | Yin 1 | → | Yin 2 |
| | | ↓ | | ↓ | | | | ↓ | | | | |
| 1 | | → | → | 2 | | | | → | → | Yin 1 | → | Yin 2 |
| Tentative Name | Skill Name | Aerial Rave | Desc. | Hit Count |
| --- | --- | --- | --- | --- |
| Yin 1 | Honō kiba | × | | |
| Yin 2 | Mecha keri | × | | |
| Yin 1 | Kōga | × | | |
| Yin 2 | Kyō inu | × | | |
Flash
| | | | | | | | | | | | | | | | | |
| --- | --- | --- | --- | --- | --- | --- | --- | --- | --- | --- | --- | --- | --- | --- | --- | --- |
| 1 | → | 2 | → | 3 | → | 4 | → | → | → | Flash 1 | → | Flash 2 | → | Flash 3 | | |
| | | ↓ | | ↓ | | | | ↓ | | ↓ | | ↓ | | | | |
| 1 | | → | → | 2 | | | | → | → | → | → | Flash 1 | → | Flash 2 | → | Flash 3 |
| Tentative Name | Skill Name | Aerial Rave | Desc. | Hit Count |
| --- | --- | --- | --- | --- |
| Flash 1 | Shi harai | × | | |
| Flash 2 | Roku hi natsu-kō tsubasa | × | | |
| Flash 3 | Metsu ki-dan | ○ | | |
| Flash 1 | Ōsutoraria kasane tsume | (○) | | |
| Flash 2 | Hankon tsume | (○) | | |
| Flash 3 | Hibiki o hebi | ○ | | |
Aerial Rave (Homura)
| | | | | | | | | |
| --- | --- | --- | --- | --- | --- | --- | --- | --- |
| Air 1 | → | Air 2 | → | Air 3 | → | Air 4 | → | Air 5 |
| ↓ | | ↓ | | ↓ | | ↓ | | |
| → | → | → | → | → | → | → | → | Air 1 |
| Tentative Name | Skill Name | Aerial Rave | Desc. | Hit Count |
| --- | --- | --- | --- | --- |
| Sky 1 | Toga sara | × | | |
| Sky 1 | Akai hekireki | × | | |
| Air 1 | Ichi no tsume | × | | |
| Air 2 | Vol.2 no tsume | × | | |
| Air 3 | mucha keri | × | | |
| Air 4 | Mononoke furo | × | | |
| Air 5 | Chi-fū daisharin | ○ | | |
| Air 5 | Akai hekireki | × | | |
| Air 1 | Kurenai Igarashi | × | | |
Crimson Homura
| | | | | | | | | | | | | |
| --- | --- | --- | --- | --- | --- | --- | --- | --- | --- | --- | --- | --- |
| Crimson 1 | → | Crimson 2 | → | Crimson 3 | → | Crimson 4 | → | Crimson 5 | | | | |
| | | ↓ | | ↓ | | ↓ | | ↓ | | Crimson 6 | | |
| | | → | → | Crimson 6 | | ↓ | | ↓ | | ↑ | | |
| Crimson 1 | → | → | → | → | → | Crimson 2 | → | Crimson 3 | → | Crimson 4 | → | Crimson 5 |
| Tentative Name | Skill Name | Aerial Rave | Desc. | Hit Count |
| --- | --- | --- | --- | --- |
| Crimson 1 | Guren ga shin | × | | |
| Crimson 2 | Guren Retsu dan | × | | |
| Crimson 3 | Guren tsubuteiw | × | | |
| Crimson 4 | Guren ika Tū | × | | |
| Crimson 5 | Guren shōdo | × | | |
| Crimson 6 | Dai chi-fū koma | ○ | | |
| Crimson 1 | | × | | |
| Crimson 2 | | × | | |
| Crimson 3 | | × | | |
| Crimson 4 | | (○) | | |
| Crimson 5 | | ○ | | |
| Crimson 6 | | ○ | | |
Aerial Rave (Crimson Homura)
| | | | | | | | | |
| --- | --- | --- | --- | --- | --- | --- | --- | --- |
| Air 1 | → | Air 2 | → | Air 3 | → | Air 4 | → | Air 5 |
| ↓ | | ↓ | | ↓ | | ↓ | | |
| → | → | → | → | → | → | → | → | Air 1 |
| Tentative Name | Skill Name | Aerial Rave | Desc. | Hit Count |
| --- | --- | --- | --- | --- |
| Sky 1 | | × | | |
| Sky 1 | | × | | |
| Air 1 | | × | | |
| Air 2 | | × | | |
| Air 3 | | × | | |
| Air 4 | | × | | |
| Air 5 | | ○ | | |
| Air 5 | | × | | |
| Air 1 | | × | | |
Secret Ninja Arts
Homura
| Name | Area of Effect | Hit Count | How to Obtain | Notes |
| --- | --- | --- | --- | --- |
| Charge | Lateral direction | | Initial | |
| Sound of the Wind | Their surroundings | | Complete Mission 4-04 | |
| Dawn | Their surroundings | | Reach Lv.15 | |
Crimson Homura